Gamify Security Training with Developer CTFs
Kyle Rankin
Chief Security Officer
Purism
Agenda
Introduction
Developer Security Training Challenges
What is a CTF?
Why a Developer CTF?
My Test Case
The Rules
Preparation
The Arena
Hacking Day
Results
Questions?
Introduction
I come from a sysadmin background
Security focus is primarily on defense
Was put in charge of security at a startup
Very talented developers, but almost 0 security background
Not everyone is born with a security mindset
Can be learned, however
Needed to ramp developers up on proper security mindset
My approach: build a custom internal CTF tournament
This talk: a case study in how to build your own.
Developer Security Training Challenges
Security only one concern of many for developers
If it's a concern at all
Linux kernel mailing list a great example of engineer priorities
Some security training dry, high-level, not relevant
Focus is more on attack than defense
Often recycled red team training
Usually not custom-tailored to developer's own code.
What is a CTF?
Capture the Flag = Hacking Competition
Teams hack each other's machines to get "flags"
Flags = points, highest score wins
Some CTFs more focused on puzzles than exploits
Great way for hackers to practice craft
Many Open Source CTF arenas out there.
Why a Developer CTF?
Regular CTFs focused more on hacking, less on defense
Not all developers find hacking vulnerable web apps fun
Even less relevant to back-end or low-level developers
Instead, build CTF where their own software is being hacked
Pit engineering teams against each other, with full view of source
Require bug reports to get points
Much more relevant, with direct company benefit (bugs) as a result
Helps justify losing a day of productivity to security training.
My Test Case
Engineering was split into 4 major software teams
Each team had at least 4-5 members
All wrote networked services, some web-based, some back-end
Split QA across teams
Gave a short introductory talk on hacking to kick off competition
Teams had a few months for defense (tightening code) and offense (looking for exploits)
Built an arena in AWS running their software, scheduled a Friday for the competition.
The Rules
Each team has read-only access to other teams' code
Can spend next months hardening code, looking for exploits
Code freeze week before competition
Day before competition, teams can login to arena and "harden" own apps
Must submit all hardening steps to judge
/root/flag and /var/tmp/flag files on each server
No flooding. Crashing services allowed, but lower points than hacking
Can patch competitor service after you exploit
Services are required to stay up and functional.
The Rules - Scoring
Crashing a service: 100 points
Defacing a service: 100 points
Unauthorized user access to a service: 200 points
Get local user privileges on a server: 300 points
Get local root privileges on a server: 600 points
Points can be cumulative.
The Rules - Penalties
Penalty points at judge's discretion
Example actions that get penalty points:
- Editing contents/permissions of any flag
- Intentional brute force DoS on a service
- Intentionally taking down own service
- Intentionally halting a competition machine.
The Rules - Bonuses
Potential for bonus points at judge's discretion
Particularly notable hacks (find 0-days in system services)
Best Defender (least exploited team by points): 1000 points
Most Comprehensive Offense (team that exploits the most other teams): 1000 points
Winner gets bragging rights, Amazon gift card.
Preparation
Kicked off competition with email explaining rules, teams
Gave a short "How to Hack" talk
Developers spent next months hardening apps
I spent the time building the arena
Generated user/root flags for each host
Froze apps week before competition for arena version.
The Arena
Isolated environment in AWS running our apps
Each app had two security groups:
- DMZ for arena-facing apps
- Internal SG for internal apps
Each app environment had own bastion host to enter arena
Some apps fit well into front-end/back-end model
For others, just created multiple instances of app
Day before competition, developers logged in, hardened servers.
The Arena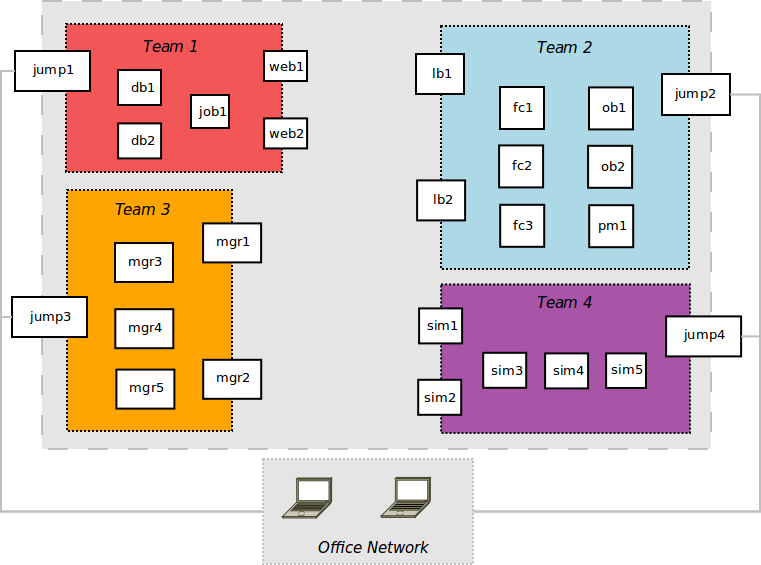 Hacking Day
Opened firewalls between bastion hosts
At first attacks were slow going
After a few hours, team 1 found local+root exploit in team 3 external apps
An hour later, team 2 found open rabbitmq service w/ default creds on team 1 network
Both teams "deface" services.
After the first half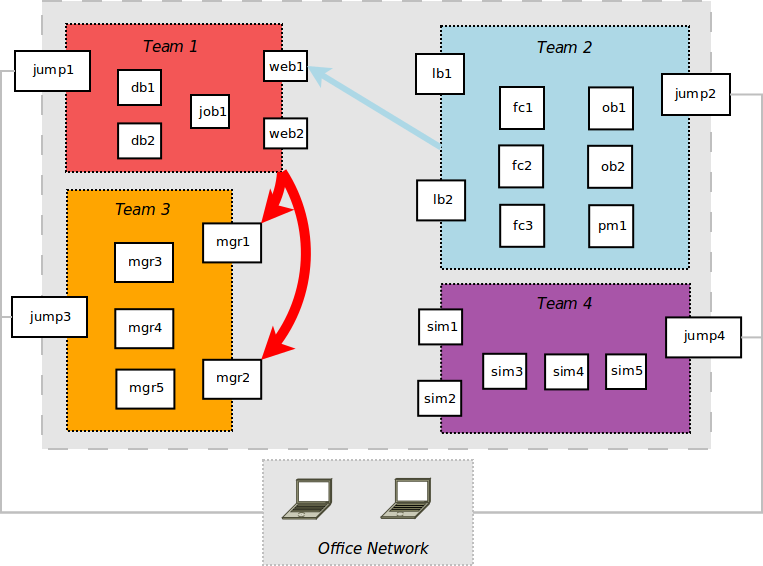 Hacking Day Cont.
Relaxed firewall rules to access from office network
Team 1 leverages root access to upload ssh keys, exploit remaining team 3 services
Team 1 discovers plaintext creds in team 3 db, changes admin password
Team 4 servers come up
Team 1 defaces, then gets user/root flags from team 4 external servers
Team 3 defaces, then gets user/root flags from team 4 external servers
Team 1 gets user/root flags from team 4 internal servers
Team 2 crashes team 1 rabbitmq service
Team 2 gets user access to team 3 external services.
At the end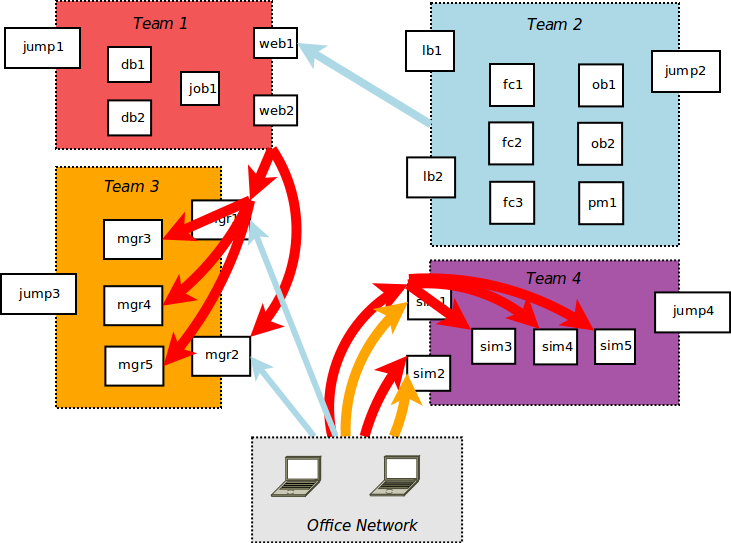 Results
Team 1 compromised most other teams, wins competition
Team 2 has best defense, wins 2nd place
Many good security bugs filed
Lessons learned:
- Flexibility in planning/execution important
- Requiring all attacks through bastion host slowed everyone down
- Harder to exploit services w/o user accounts
- Cross-functional developers may remember own bugs
- Team sizing/balancing was important
"I learned more about security today, than in years as a developer."
Questions?
Additional Resources